Duri 0-6 Infant Formula is specially formulated for bottle fed babies from birth or when moving on from breastfeeding within the first 6 months. Duri Infant Formula has special nutrients to enhance the immunity of the baby and meanwhile promoting the development of your baby's immune system.
Major Nutrients
Nucleotides: it plays an important role in many biological processes. It also helps to build up immune system.
Whey protein: easily absorbed by your baby. It optimises protein structure and fulfils baby's requirements for protein, stimulating healthy growth.
Vitamins/Minerals: meet the needs of skeletal growth. These are necessary nutrients for baby's healthy growth.
Sterilisation & Preparation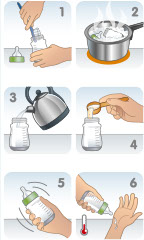 Wash hand and utensils before preparing formula.
Sterilise bottle, teat and cap by boiling at least 5 minutes.
Boil drinking water & allow to coll. Measure correct amount of cooled water into sterilised bottle. warm to feeding temperature.
Use only enclosed scoop.  Fill scoop and level off using a clean knife blade. Avoid compacting powder. Add powder to bottle.
Close and shake the bottle until all mild powder is completely dissolved.
Test temperature of infant formula on wrist before feeding. feed immediately. Discard unfinished formula.
Feeding & Preparation Guide
Age
Average

Weight(kg)

Pre-boiled

Lukewarm

Water(ml)

Level Scoops
Feed in

24 Hours

0-2

weeks

<3.7
60
1
7-9
2 weeks-

2months

3.7-5.0
120
2
5-7
2-4

months

5.0-6.5
180
3
4-5
4-6

months

6.5-8.0
180
3
4-6
1 Scoop = 8.5g
1 Scoop of power added to 60ml of previously boiled lukewarm water
Only use scoop provided to measure powder
Each bottle should be prepared individually
This is a guide only. your baby may need more of less then indicated
Ideally, formula should be prepared just prior to feeding. Otherwise, refrigerate prepared formula and use within 24 hours.
Close lid lightly after use. Store in cool dry place under 25 degree Celsius.
Use within 4 weeks of opening.
Manufacturing Date/shelf Life: See Bottom of Can (YYYY/MM/DD)