Duri Toddler Formula is specially formulated to supplement the normal diet of an active toddler from 1 to 3 years.
At this stage babies not only require extra nutrients to support increased physical activities, but also for continued mental development. The energy and nutrient intake required is not always achieved through regular diet alone.
As well as supporting the additional energy and nutrient requirements of a growing child, Duri Toddler Formula also helps improve their immune system and digestive function.
Major Nutrients
Lactose: to help baby to develop a healthy diet habit and help to improve the digestive system.
Taurine: to help baby to develop the brain and nervous system.
Vitamins/Minerals: enriched with vitamins and minerals to provide enough energy for babies' daily activities and healthy growth.
Sterilisation & Preparation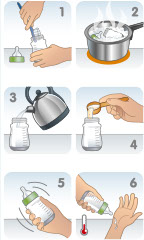 Wash hand and utensils before preparing formula.
Sterilise bottle, teat and cap by boiling at least 5 minutes.
Boil drinking water & allow to cool. Measure correct amount of cooled water into sterilised bottle. warm to feeding temperature.
Use only enclosed scoop.  Fill scoop and level off using a clean knife blade. Avoid compacting powder. Add powder to bottle.
Close and shake the bottle until all mild powder is completely dissolved.
Test temperature of infant formula on wrist before feeding. feed immediately. Discard unfinished formula.
Feeding & Preparation Guide
Age
Pre-boiled

Lukewarm Water(ml)

Level Scoops
Feed in

24 Hours

1-3 Years
180
4
2-3
1 Scoop + 8.5g
3 Scoop of power added to 18Cml of previously boiled lukewarm water
Only use scoop provided to measure powder
Each bottle should be prepared individually
This is a guide only. your baby may need more of less then indicated
Ideally, formula should be prepared just prior to feeding. Otherwise, refrigerate prepared formula and use within 24 hours.
Close lid lightly after use. Store in cool dry place under 25 degree Celsius.
Use within 4 weeks of opening.
Manufacturing Date/shelf Life: See Bottom of Can (YYYY/MM/DD)